Genetically Modified corn vs. non-GM corn
Why grow this: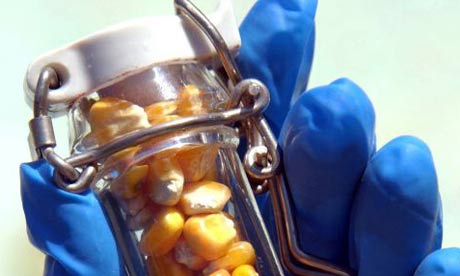 When you could grow this?
How about the dangerous levels of glysophate and fluoride in factory farmed gen-mod corn?
http://permaculturenews.org/2013/04/22/stunning-difference-of-gm-from-non-gm-corn/
Not convinced yet? How about the fact that GM corn may effect fertility?
http://www.gourmet.com/foodpolitics/2008/11/politics-of-the-plate-infertility-from-gm-food
Nice, eh? Fluoride-induced brain damage and broken baby-making bits. Science! Science! Science!
I just finished reading
Carol Deppe's The Resilient Gardener
(which I really need to review before too long) and she's a total expert on traditional corn varieties. We'd better start saving and growing them in home plots before they're completely destroyed by GM monstrosities.
It's sad to avoid grits, corn flakes, tortilla chips, etc... but that's really our only option unless we grow our own - or can prove the corn in our favorite products isn't GM.
Sick.